[Maidian.com] In order to further expand the inbound tourist source market, implement an integrated marketing strategy, and achieve the strategic goal of "creating price and building a service highland", a joint 18 countries and...
[Maidian.com] In order to further expand the inbound tourist source market, implement an integrated marketing strategy, and achieve the strategic goal of "creating price and building a service highland", a group of 24 well-known brand travel agencies in 18 countries and regions, 4 International airlines, 10 international brand hotels, 13 boutique scenic spots and 15 international tourism management departments of the country, the "International Best Tourism Alliance", was officially established in Dujiangyan.
It was learned that the Best Tourism Alliance was jointly sponsored by the Chengdu Tourism Bureau and other units and departments, and cooperated with famous brand travel agencies in Japan, South Korea, Australia, Germany, France and other countries and regions; international airlines such as KLM, Air China and Sichuan Airlines; Hotels, Sheraton, Crowne Plaza, Sofitel Wanda, Kempinski, Shangri-La and other international hotels; tourism service organizations jointly established by China's western boutique tourist attractions, local government and tourism management departments, and tourism associations. The "Best Tourism Alliance" permanent residence (office location) is located in Dujiangyan City, Chengdu.
Currently, there are 84 units that have joined the "Best Tourism Alliance" in advance. The scenic spots currently participating in Sichuan Province include the Chengdu Giant Panda Breeding Research Base, the Jinsha Site Museum, the Qingcheng Mountain·Dujiangyan Scenic Area, the Emei Mountain·Leshan Giant Buddha Scenic Area, the Deyang Sanxingdui Site Museum, and the Mianyang Qiqu Mountain Scenic Area. The provincial scenic spots include Xi'an Huaqingchi Scenic Area and Gansu Jiayuguan Scenic Area.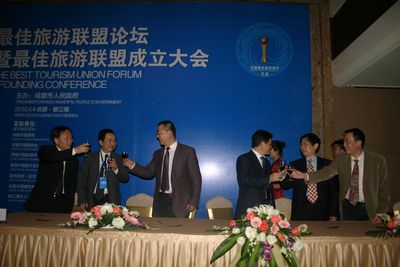 The reporter learned that the International Best Travel Alliance is divided into three alliances: city alliance, travel agency alliance and airline, tourist attraction and hotel alliance. In terms of urban alliances, the alliance units will establish a communication, coordination and cooperation mechanism, and joint marketing to develop the tourism market. "We will use tourism routes as a link, integrate their respective resource advantages, highlight the characteristics, build an integrated tourism image, jointly design and develop boutique tourism routes, and form a tourism product system that can attract the needs of different source groups abroad, and jointly develop overseas tourism markets every year. Promotion plan." Deng Gongli said, "We hope that through the 3-5 years of cultivation and development, this international best tourism alliance will become the best and internationally renowned international tourism marketing organization and the best travel service brand in China."
It is understood that as an important measure after the establishment of the Best Tourism Alliance, in May this year, 1 million panda gold cards will be issued for overseas tourists. Deng Gongli told reporters that the upcoming 1,000-panda gold card is mainly to stimulate the recovery of inbound tourism. According to the plan, the government will take the lead in making a travel magazine, and the Panda Gold Card will be attached to the magazine to be given to tourists. "The content of the magazine is mainly information about the various members, including China's western tourism information, such as the best tourism products and the benefits that cardholders can enjoy." Deng Gongli said, "This magazine is only overseas. The magazine can be purchased by overseas tourists to local travel agencies and bookstores. It is understood that the first batch of Panda Gold Card is planned to be issued 1 million copies, which will be valid within one year after the card is opened. In addition to the Jinsha Site Museum, Qingcheng Mountain-Dujiangyan Scenic Area, Emeishan·Leshan Giant Buddha Scenic Area and many other scenic spots, cardholders can enjoy discounts on tickets, to Xi'an Huaqing Pool Scenic Area, Guilin Duxiu Peak-Wangcheng Scenic Area, Gansu Jiayuguan Scenic Area, Guiyang Nanjiang University. There are also discounts in domestic scenic spots such as canyons. (Sichuan Online)
CareerSec understands that a working knowledge of English is essential in the modern world and is in high demand in China a country with over a billion people population.
Just as words are coined in English and adopted by other languages, English teaching methodology and professionalism set the international standard.

With such a high demand for English language skills comes a demand for teachers of English.CareerSec offers training, coaching and refresher programs in partnership with leading teacher training centers and language schools in China, so you will receive guidance from real experts in English language teaching and in class activities.

Many of the activities and teaching frameworks featured in our workshops and trainings will equip you with skills to start your teaching experience in China.The Creativity Workshops have helped thousands of educators and their students develop creativity and innovation ideas in interactive activities, the arts, creative writing, in class games and engage each person`s innate curiosity and imagination to foster a lifelong love of learning.

Training On The Job,Athletic Training Jobs,Job Training Programs,Training And Development Jobs
Shanghai Careersec Cultural Exchange co. LTD , https://www.careersechr.com